Product Details
Experience extreme with the Intel NUC8i7HNK kit that give you the breakthrough performance you need to push your creation to the next level.
Built with an 8th gen Intel Core i7 processor with Radeon RX Vega M graphics with 4GB of dedicated high-bandwidth memory, you can wring ever GHz of performance you need for 4K and 360 video editing, 3D rendering, shading, and complex calculations. Add in up to 32 GB of DDR4 RAM and two M.2 SSDs in a RAID-0 or RAID-1 configuration, and you've got a system that serves up and saves your big files quickly.
  Meet extreme gaming challenges with the Intel NUC8i7HNK kit that is  optimized to give you high-key gaming that lets you reach your #goals.
 With our 8th gen Intel Core i7 processor with Radeon RX Vega M graphics and 4  GB of dedicated high bandwidth memory, the Intel NUC8i7HNK kit delivers  fantastic AAA gaming performance. On-board Intel graphics assist in streaming  video during live game play, while the discrete third-party graphics handle your  high-performance game. And with front and rear HDMI ports, two mini  DisplayPorts, seven USB ports plus two Thunderbolt 3 ports, you have enough  connectivity to get your game on.
One of the smallest and most powerful NUC packages available today means that you can set your Intel NUC8i7HNK kit out of sight in your office or living space for a clean look. Or move it room to room-no heavy lifting required.
A redesigned motherboard and chassis give the Intel NUC8i7HNK kit all the performance you want in a tiny package. At just 1.2 liters, the system packs all the performance of a desktop tower in a device that can sit in the palm of your hand.
Make it Your Own - RGB
Personalise your Intel NUC 8 Enthusiast with the LED Manager for Intel NUC
Easy to Use Utility - Full control via Windows utility (available from intel.com) or within BIOS
Take full RGB control of the Skull, the Eyes and even the Power Button + 3 indicator LEDs
Solid, Breathing, Strobing and Pulsing, or controlled by system activity - you decide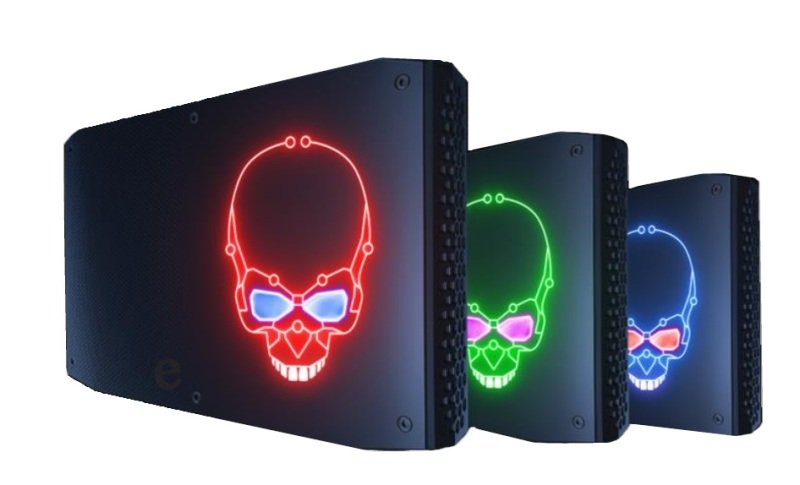 Surprisingly Peaceful
Perfect for home living areas & office environments
Innovative Cooling Solution
Traditional cooling is not suitable for Hades Canyon, so we designed a new & innovative T - shaped vapor chamber.
Dual Large-diameter Fans
Larger fans means more cooling at lower noise levels, oriented to maximize air movement around the CPU for the most efficient cooling.
Cool air direct to the CPU
Unlike previous designs, Hades Canyon brings that cool air to the CPU first, enabling enhanced cooling with less fan noise.
Essentials
Supplemental Information
DatasheetView now
DescriptionOther features: Includes 2x Thunderbolt 3 (40Gbps) via rear USB-C ports, SDXC card slot and front USB-A and USB-C ports w/ USB 3.1 Gen 2
Processor Graphics
Graphics Output2x Mini-DP 1.2, 2x Thunderbolt 3, F+R HDMI 2.0a
# of Displays Supported ‡6
Discrete GraphicsRadeon™ RX Vega M GL graphics
I/O Specifications
# of USB Ports13
USB ConfigurationF: USB3, 2x USB 3.1g2 (Type A and C); R: 4x USB3, 2x Thunderbolt3 (USB3.1g2); INT: 2x USB2, 2x USB3
USB Revision2.0, 3.0, 3.1 Gen2
USB 2.0 Configuration (External + Internal)0 + 2
USB 3.0 Configuration (External + Internal)1F, 4R, 2i
Max # of SATA 6.0 Gb/s Ports2
RAID Configuration2x M.2 SATA/PCIe SSD (RAID-0 RAID-1)
Audio (back channel + front channel)7.1 digital; L+R+mic (F); L+R+TOSLINK (R)
Integrated LANIntel® Ethernet Connection I219-LM and I210-AT
Integrated Wireless‡Intel® Wireless-AC 8265 + Bluetooth 4.2
Integrated BluetoothYes
S/PDIF Out ConnectorTOSLINK
Additional HeadersCEC, 2x USB2.0, 2x USB 3.0, FRONT_PANEL
Package Specifications
Low Halogen Options AvailableNo
General
Brand
Intel
Processor
Processor Type
Intel Core i7
Processor Series
8705G
Chipset
MD Radeon RX Vega M GL Graphics
Network and Connectivity
USB 3
3.1
Intel NUC Gaming VR Ready Kit NUC8i7HNK3 Desktop