Product Description
Samsung Galaxy Watch 46mm Silver Black -SM-R800NZSAXSG
Original Samsung Galaxy Watch Sm-R800/ Gear S4 46mm Smart Watch Silver Black
Outsmart Life. Enjoy connectivity and freedom with the new Galaxy Watch. Talk and text, maintain your health and wellness goals, and stay connected with a long-lasting battery, while making every minute of your day count with a view of your calendar.

Express your style with authentic, timeless design
  With its round face, watch hand shadowing and ticking sound, the Galaxy Watch is designed to feel just like a traditional watch. Interchangeable straps, plus a variety of colors and watch faces with depth and lighting effect let you match it to your lifestyle.

Always on display
Set the sAMOLED display on Galaxy Watch to show at all times, so you can see the time during the day and night.

Your constant companion
Enjoy connectivity and freedom
Discover the freedom to move, make and take calls and texts from your Galaxy Watch. Turn the bezel and continue to play your favorite music, and keep connected to your world.
Stream and play your favorite playlists
Keep an essential workout mix on hand, with on-board storage on the Galaxy Watch, so you can enjoy music streaming while on-the-go.
Go further faster with long lasting battery
Freedom to do more. Extend time between recharges with a long-lasting battery to conveniently connect to work, play and work-outs with less interruption.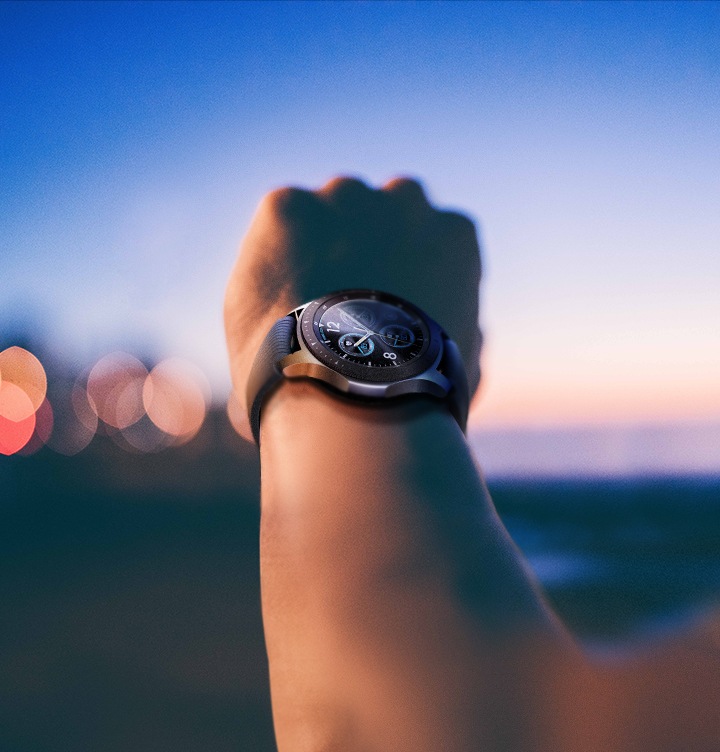 Track your Progress
Galaxy Watch auto-detects and tracks over 39 exercises, sleep and heart rate. The Samsung Health app logs your wellness goals and helps you track of your progress. Choose from a range of workout programs and guided meditation to help reduce stress levels with heart rate reading, and more.
        Track health monitoring
With Samsung Health, you can expand on Galaxy Watch's existing features to track and log your health in even greater detail, including heart rate and calories.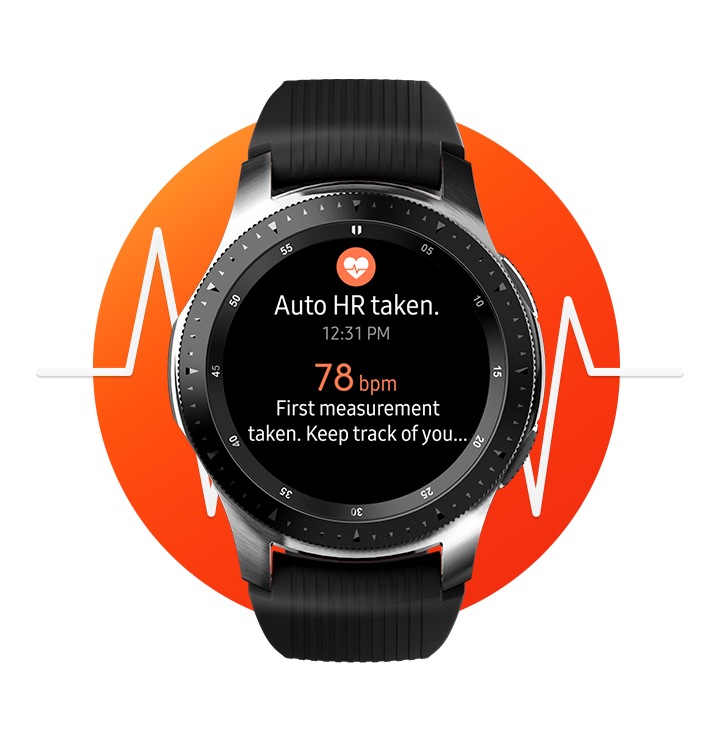 Rest and relax for a better you
Learn about your night time so you can feel better the next day. Galaxy Watch is designed to track your sleep quality, creating a log including 4 stages of sleep. It can also monitor your stress levels to assist you with stress reduction through guided breathing.
Daily Assistant
Never miss an event with Daily Assistant
Make every minute of your day count with Daily Assistant. View your reminders, meetings, and more at a glance on the Galaxy Watch. End your day with a recap of goals achieved and stay ahead of tomorrow.
Review your day before bed
Reflect on your day before bed. Another briefing based on your sleep patterns displays before bedtime, including remaining reminders and your health data for the day.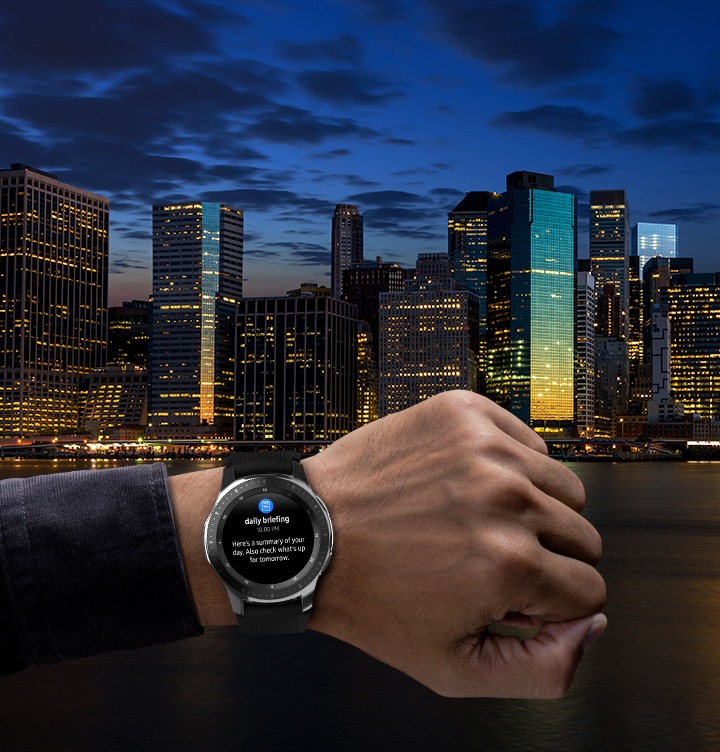 Your day at a glance
Galaxy Watch wakes up with you and helps you stay on track. The My Day watchface displays your schedules for the next 10 hours, summing them up in a single glance.
Apps in abundance
Have a look through the large selection of apps for your Galaxy Watch for what suits your needs. With a large and increasing number of contents providers, there is a lot out there to choose from.
Plot your course for what lies ahead
Galaxy Watch comes with GPS so you know where you are and where you're going. Added to this are a built-in altimeter and barometer for when you need to take it off the beaten track.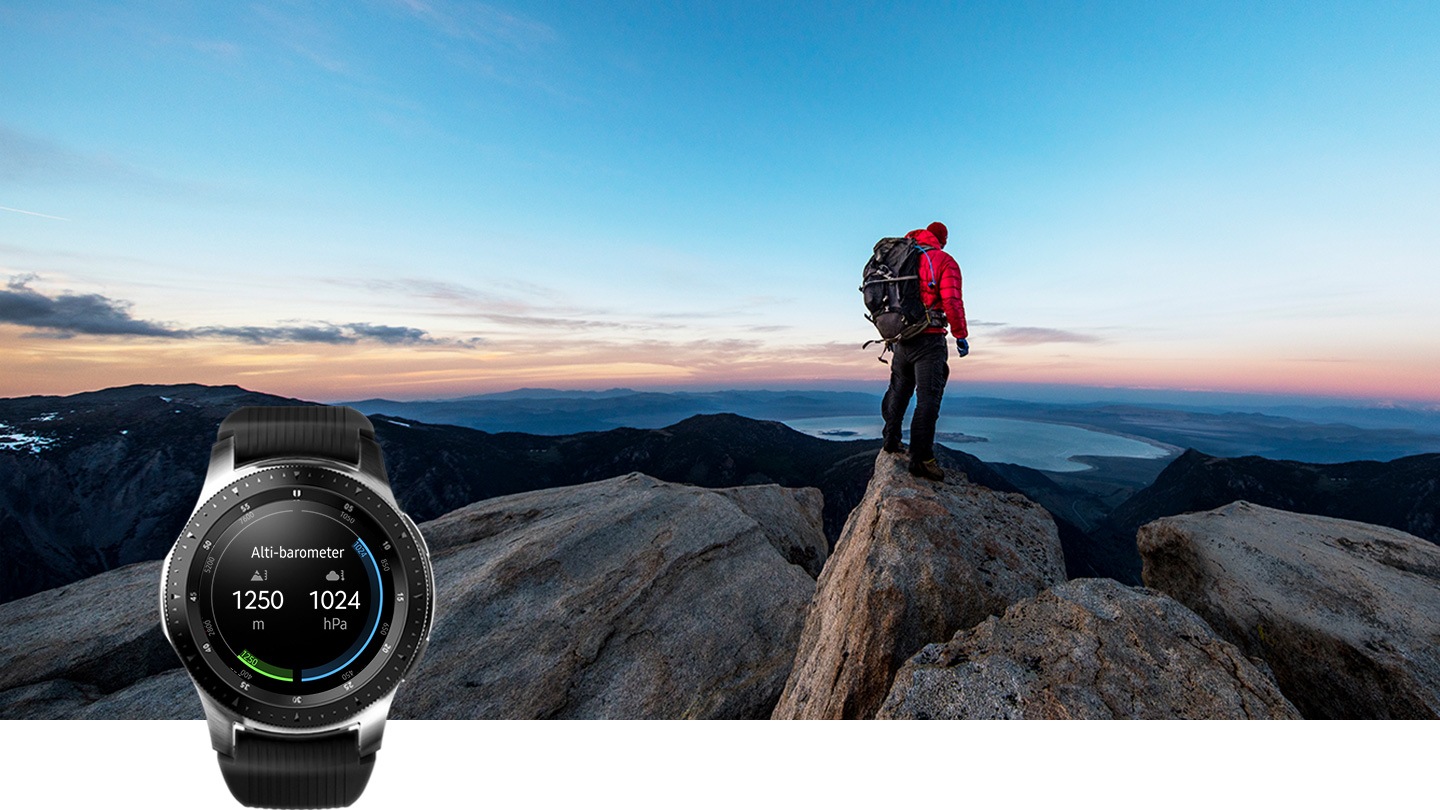 Water resistant to track your strokes and enjoy the outdoors
Engineered to keep up with you, the Galaxy Watch is water resistant to track your strokes while swimming and help you be more active outdoors. Galaxy Watch is as stylish as it is durable making it the perfect companion to your day.
Leave your wallet behind
Enjoy greater freedom and convenience; pay on-the-go. Samsung Pay and Galaxy Watch take convenience to the next level. Making a purchase is as easy as a flick of the wrist, even if your smartphone and wallet are out of reach.
Charging made simple
Charging Galaxy Watch itself is effortless. Set it down on the wireless charging dock* and the charging process begins on its own.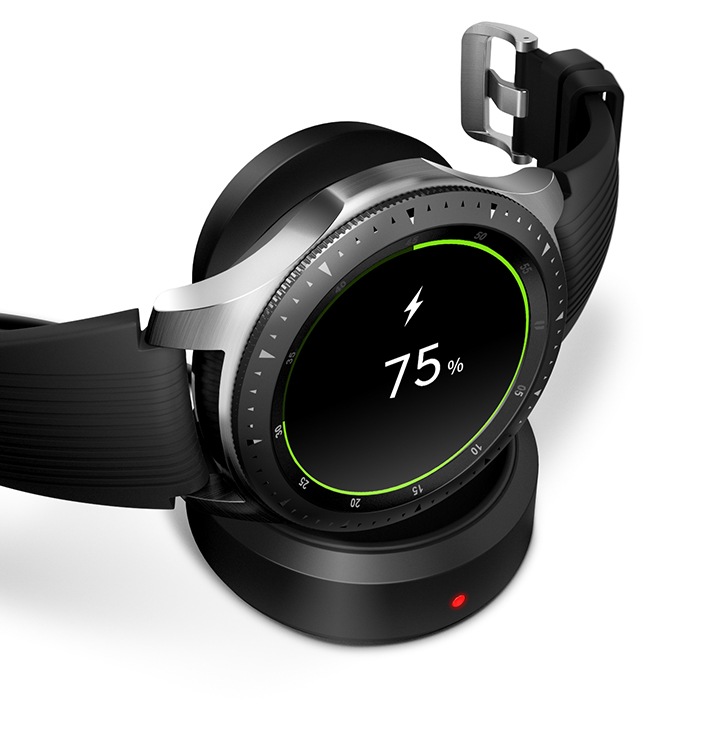 Setting up your Cellular Galaxy Watch
Galaxy Watch cellular version supports two methods for cellular set-up: through your services provider or downloaded apps.
Item specifics
Color

Silver Black

Frame Material

Silicone

Weight

63g

Battery

472 mAh

Sensors

Intelligent Timekeeper , Auto Fitness & Wellness Tracking , Timeless Design & Personalization , Daily wellness manager

Capacity

4 GB

Operating System

Tizen

RAM

0.75GB

Screen Type

Super AMOLED

Resolution

360x360

Screen Size

1.3 inch

Bluetooth

v4.2